About Us
Amish Furniture Warehouse is a Christian based, family owned furniture store with over 30 years experience in furniture manufacturing furniture.
---
Amish Furniture Warehouse: Quality
Discount Amish furniture never means that quality is compromised at Amish Furniture Warehouse. The Amish Furniture Warehouse, located near New London, Wisconsin is a family-owned Amish furniture store that provides high-quality, discount Amish furniture.
Our pricing is excellent because our products are obtained directly from Amish manufacturers. We have a wonderful working relationship with the talented craftsmen who provide the beautiful, solid wood furniture, Amish mattress sets, upholstered Amish furniture, Amish cabinets, rustic furniture, bathroom vanities, Amish décor, other handmade furniture, and so much more!
Amish Furniture Warehouse: Customization
We're also proud to offer an array of customization options from furniture features to wood types and colors. This is one of the things that really sets us apart from other furniture stores; you're not locked into furniture as it's shown in the warehouse. Many of our Amish furniture offerings are highly customizable – often with little or no upcharge! -- if you don't mind waiting for our Amish friends to make you something special.
We custom build bedroom furniture, living room furniture and dining room furniture, as well as individual furniture pieces, that include entertainment centers, hutches, home and office bookcases. With our stronger inner construction, and outer frame, any piece of furniture we build, we guaranteed for as long as you own it.
We will work with you to design and create a beautiful addition to your furniture collection. You give us the dimensions, select your hardware and wood, and the Amish Furniture Warehouse will build that piece of furniture for you.
Our drawers are solid wood, with side mounts and self-closing glides. Furniture can be built in cherry, maple, oak, brown maple and 1/4 sawn white oak.
We really love what we do and it's so much fun to see people excited about their new furniture.
When you walk through our door, you are not just a number to us. We love to visit and get to know our customers. We have found that by getting to know you we have more insight and understanding of what your furniture needs are.
Over the years we have seen furniture stores come and go. Many of whom offered low quality furniture at high prices. We have chosen to continue our commitment to selling quality furniture, at factory direct pricing.
Knowledge and know how is important when shopping for furniture. You work hard for your money, and we do too. We know that most people can't afford to waste it. When you come to our store, we give you that knowledge and let you do the decision making.

Amish Furniture Warehouse: A Family Tradition
Al and Merry have been in the furniture business for over 30 years. Beginning first with custom-built water beds in the 80s, they later turned their attention to Amish furniture. Their own experience creating handmade furniture gave them unique insight in how to spot whether an item was truly made to last.
Al built the New London store with his own two hands and over time, Amish Furniture Warehouse became a family tradition. You'll find their daughter Mimi, who helps with administration and customer service, enjoys working closely with her boys. They help move, unload, and deliver Amish furniture, often alongside their grandfather Al, who still enjoys participating in deliveries.
Solid wood furniture and other Amish décor and handmade furniture available at Amish Furniture Warehouse can be heavy, but these men are always up to the task!
Al and Merry's younger grandchildren can be found hanging out in the office, completing schoolwork or other tasks. They'll even help out in the store sometimes with smaller jobs. Amish Furniture warehouse is a happy, busy place -- especially in the summer!
Family-owned and operated businesses are becoming a thing of the past, but at Amish Furniture Warehouse, you're treated like family by Al, Merry, and the rest of their family. You'll find strong ethics and morals everywhere you turn.
The family also has a strong belief in The Creator and like to share this passion in part by offering Christian art and décor among the great variety of products provided to customers. Their faith drives them to do business with honesty; they'll tell you the pros and cons of every piece they sell while taking into consideration the purpose and placement of the furniture you're considering.
Amish Furniture Warehouse: Worth the Trip!
Amish Furniture Warehouse customers travel from all over Wisconsin! People value our service, quality, and pricing greatly, and find it is more than worth it to travel from Madison, Milwaukee, Appleton, Fond du Lac, Oshkosh, Beaver Dam, Stevens Point, Waupaca, Wisconsin Rapids, Green Bay, Marshfield, Wauwatosa, and several other areas. On occasion, we even have the pleasure of serving customers from other states.
Our Mission
To set ourselves apart from other furniture stores and businesses by treating our customers with respect, honesty and integrity.
To give our customers the best furniture we can, by getting to know them as a person, not a dollar figure.
To sell quality furniture built in the USA at an affordable price.
We set these goals because we know these are the first steps for a furniture business to thrive. But above all else, our family believes that faith, honesty and integrity are the marks of true success in business and life.
The reason we started making furniture and selling Amish furniture, was to give people real quality and beauty, at affordable pricing. Our main goal is to provide the best furniture possible and provide outstanding personalized service.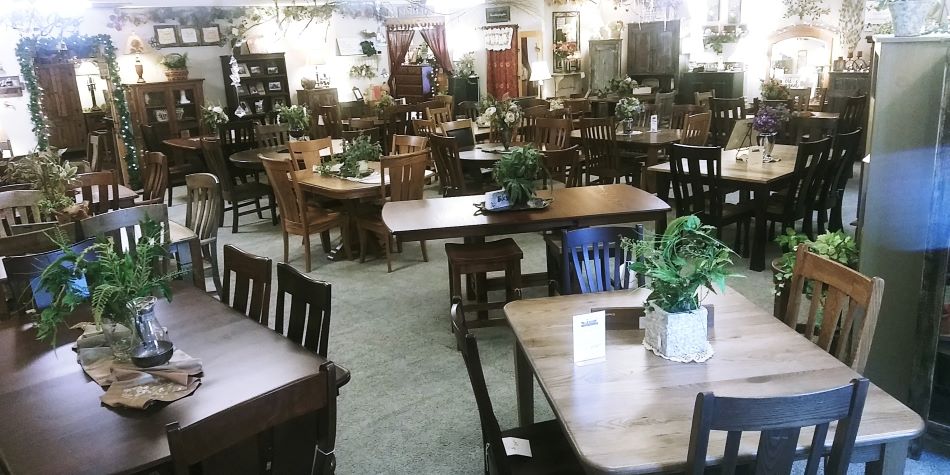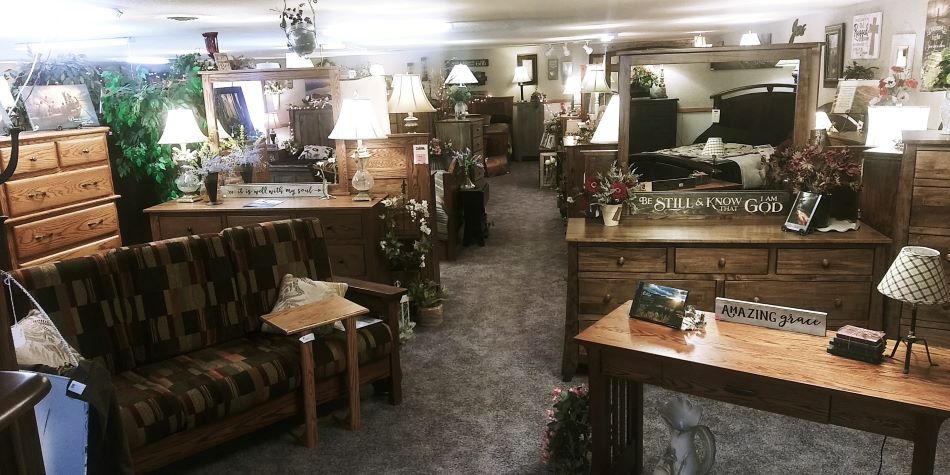 FURNITURE BUYING GUIDE
Do the math and look at the bottom-line price.
Shop around; make sure you're getting the best deal.
Look at the quality and guarantees.
Open the drawers and make sure they function well.
Look at the back of the furniture to make sure it's not pressboard or plywood.
Open tables and turn over the chairs. Was pressboard or plywood used?
Beware of gimmicks.
Not sure what to look for? Ask! We will show you. We have nothing to hide!
Find more information on our "Why Choose Amish Furniture" page.
Please Be Aware - Some Amish furniture companies are advertising 40% off to get you in their stores. It may seem like a great deal at first, but if check the bottom line, Amish Furniture Warehouse will generally be the best overall deal.